B-Series----Pot Magnets With Cylindrical Boreholes
| | |
| --- | --- |
| Categories | Pot Magnets |
| Brand | Vector Magnets |
| Update Time | February 9,2023 |
SNB(Stamping - NdFeB - Cylindrical Borehole)
LNB(LatheMachining - NdFeB - Cylindrical Borehole)

These magnets have a cylindrical borehole/drilling makes every mounting extremely easy! 
You can mount them using different types of head cap screws such as hexagon socket or slotted capstan. 
In this way you will be able to mount them directly to your walls or ceilings or machines and devices. 

They can be used at a temperature up to 80 °C. 

These magnets are the perfect helper for exhibitions and displays. 

Even in advertising / display design / lighting sector, our strong pot magnets are indispensable.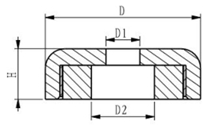 | | | | | | | |
| --- | --- | --- | --- | --- | --- | --- |
| Model | D | D1 | D2 | H | Weight (g) | Breakaway (kg) |
| SNB10 | 10 | 3.5 | 6.5 | 4.5 | 2 | 1 |
| SNB12 | 12 | 3.5 | 6.5 | 4.5 | 4 | 1.5 |
| SNB16 | 16 | 3.5 | 6.5 | 5 | 7 | 5 |
| SNB20 | 20 | 4.5 | 8 | 7 | 13 | 10 |
| SNB25 | 25 | 5.5 | 9 | 8 | 22 | 20 |
| SNB32 | 32 | 5.5 | 9 | 8 | 38 | 30 |
| SNB36 | 36 | 6.5 | 11 | 8 | 48 | 40 |
| SNB42 | 42 | 6.5 | 11 | 8.6 | 75 | 60 |
| LNB48 | 48 | 8.5 | 15 | 11 | 114 | 70 |
| LNB55 | 55 | 8.5 | 15 | 12 | 189 | 90 |
| LNB60 | 60 | 8.5 | 15 | 15 | 235 | 150 |
| LNB70 | 70 | 10.5 | 18 | 17 | 429 | 190 |
| LNB75 | 75 | 10.5 | 18 | 18 | 460 | 230 |
| LNB80 | 80 | 10.5 | 18 | 18 | 641 | 260 |
| LNB90 | 90 | 10.5 | 18 | 18 | 799 | 330 |
| LNB120 | 120 | 12.5 | 25 | 18 | 1380 | 450 |
Please send your message to us