The Application Halbach Magnets Array
1. What's Halbach Array?

Halbach Array is a kind of magnet structure. In 1979, the American scholar Klaus Halbach discovered this special permanent magnet structure during electron acceleration experiment and gradually improved it, and finally formed the so-called "Halbach" magnet It is an approximate ideal structure in engineering. It uses a special arrangement of magnet units to enhance the field strength in the unit direction. The goal is to use the least amount of magnets to generate the strongest magnetic field.
The permanent magnets with different magnetization directions are arranged in a certain order, so that the magnetic field on one side of the array is significantly increased, and the other side is significantly weakened.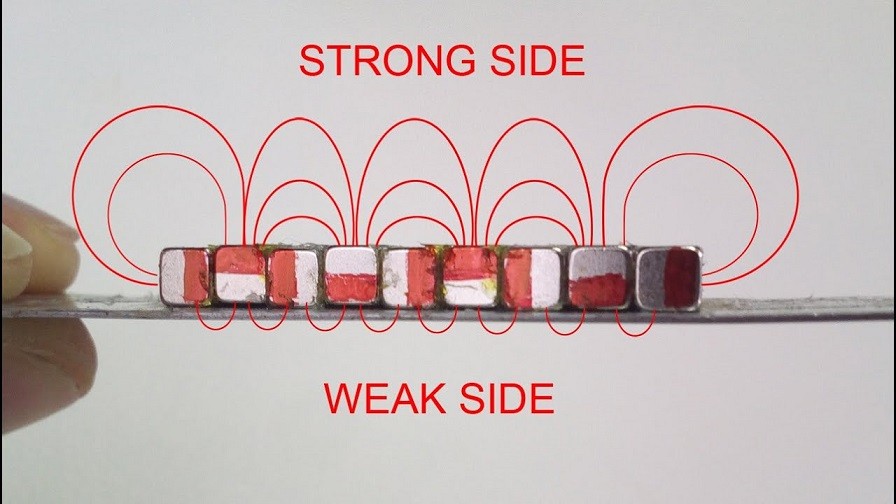 The linear type is the most basic Halbach array composition. This array magnet can be regarded as a combination of a radial array and a tangential array, as shown in the figure below.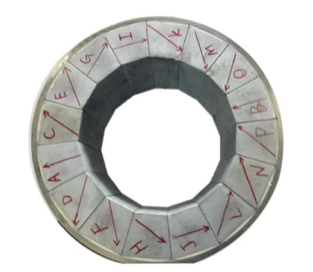 The circular Halbach array can be regarded as a combination of linear Halbach arrays end to end to form a circular ring shape.
3. Array Applications
Linear Halbach arrays are currently mainly used in linear motors. The levitation principle of the maglev train is that the moving magnet interacts with the magnetic field generated by the current induced in the conductor to generate levitation force, and at the same time, it is accompanied by magnetic resistance. Improving the buoyancy and drag ratio is the key to improving the performance of the levitation system, which requires the weight of the on-board magnet Light weight, strong magnetic field, uniform magnetic field and high reliability. The Halbach array is installed horizontally in the center of the car body, and it interacts with the winding in the center of the track to generate propulsion, which maximizes the magnetic field with a small amount of magnets, and the other side has less magnetic fields, which can prevent passengers from being exposed to strong magnetic fields.Circular type :The circular Halbach array can be regarded as a combination of linear Halbach arrays end to end to form a circular ring shape.
Among the permanent magnet motors, the permanent magnet motors using the Halbach array structure have an air gap magnetic field that is closer to the sinusoidal distribution than traditional permanent magnet motors. With the same amount of permanent magnet materials, the Halbach permanent magnet motor has a greater air gap magnetic density. The iron loss is small. In addition, Halbach ring arrays are also widely used in permanent magnetic bearings, magnetic refrigeration equipment and magnetic resonance equipment.