Hong Kong stocks China Rare Earth (00769.HK) soared 108.11% to close at HK$0.77, the largest increase in history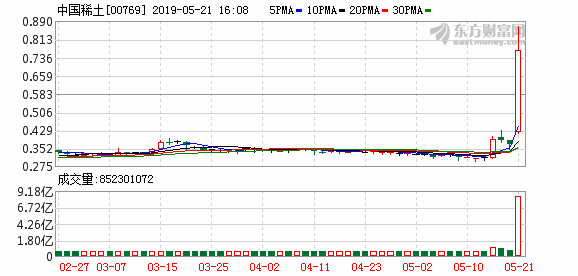 Hong Kong stocks China Rare Earth (00769.HK) soared 108.11% to close at HK$0.77, the largest increase in history.
In the news, since last week, the rare earth sector has rebounded collectively. Du Shuaibing, a rare earth analyst at Baichuan Information, said in an interview with the China Times that the rare earth (price) will continue to rise and there is still 50% (upside).
Tian Feng Securities analyst Yang Chengxiao said that since March 2019, the price of medium and heavy rare earth has risen. After long-term blackouts and inspectors and environmental protection, since the beginning of 2017, the heavy and medium rare earth mining in the south has been blocked from importing. Imports are shut down as scheduled, and short-term import of raw materials may continue to be tense. At present, the uncertainty of re-entry is higher and domestic resumption of production is slower. The price of medium-heavy rare earths is expected to continue to rise.
CITIC Securities believes that in the short-term, with the advent of the traditional peak season, companies have actively replenished the warehouse, and traders have also increased their efforts to receive goods. The price of light rare earths will stabilize. In the long run, as the BBA (BMW, Mercedez-Benz, Audi) accelerates the production of new energy vehicles, the growth of overseas orders will bring the largest incremental information to the consumption of NdFeB. In addition, the increase in the consumption of high-end cars, NdFeB demand is expected to be Pulling, light rare earth prices are expected to gain support.
In addition, Wanlian Securities said that the price of light rare earth has fallen back to the previous low level, grasping the opportunity of bargain-hunting: rare earth is an important strategic resource that cannot be regenerated. With the deepening of the world scientific and technological revolution and industrial transformation, and the in-depth implementation of national strategy, rare earth The application value will be further enhanced and the role will be more prominent. The market demand for rare earth products will continue to grow. In April, the price of light and heavy rare earths continued to differentiate, and the price of light rare earths fell back to the previous low level. It is recommended to focus on the opportunity to open positions in the relevant sectors.