Visit Vector Magnets at ACMEE Chennai India.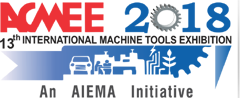 ACMEE 2018, 13th International Machine Tools Exhibition,
The biggest exhibition on machine tools will be organized by

Ambattur Industrial Estate Manufacturers Association (AIEMA)
Chennai Trade Center, Chennai, India
Date: 21 - 25 June 2018.

Write to us to make an appointment to solve your problem.